DON'T TRY THIS YOURSELF. TRUST THE EXPERTS TO DO IT RIGHT.

When your home's slab is compromised by a leak due to rusted or broken pipes, you need professional experts to help you. With years of experience in the industry, Conyers Plumbing can provide a quick and efficient service whenever a slab leak occurs. Whether you have hard water buildup, pinhole pipe leaks, floor damage, or notice your water bills increasing, Conyers Plumbing can discover the exact issue and provide the solution you need.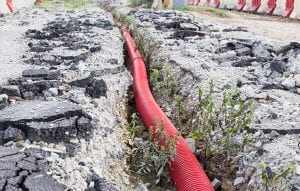 During the 1980's, most homes here in Florida were built with a concrete slab foundation built over soft copper water pipes under the slab. Unfortunately, many problems can arise with these pipes such as rust build-up or pipe deterioration. The most common cause of a slab leak is the clay below the foundation because it expands when it is wet and shrinks when it is dry causing the concrete to shift and eventually crack leading to leaks.
Most homeowners don't know they have a potential slab leak situation until major damage occurs to the home. Conyers Plumbing would like to stress how important catching a slab leak as soon as possible is as the longer a slab leak goes unaddressed the greater the damage to your property.
Slab leaks are very dangerous to the integrity of your home as they can lead to structural issues and costly repairs.
Slab leak signs:
High water bills
Cracked slabs
Sounds of water running when all fixtures are off
Mildew and mold
Hot spots on the floor
Standing water near your home's foundation
We at Conyers Plumbing have the knowledge and expertise to repair your slab leak problems.
Our customers love our service and attention to safety and detail.
Why not request a quote now and let us help you with your plumbing needs?
Certified Plumbing Contractor License #CFC1426797
Family Owned & Operated
Licensed, Bonded and Insured
Over 30 Years of Experience
Residential & Commercial Plumbing
Professional & Courteous Plumbers
Upfront Pricing
Free Estimates
Fill in the form below to request a callback to discuss your plumbing needs.